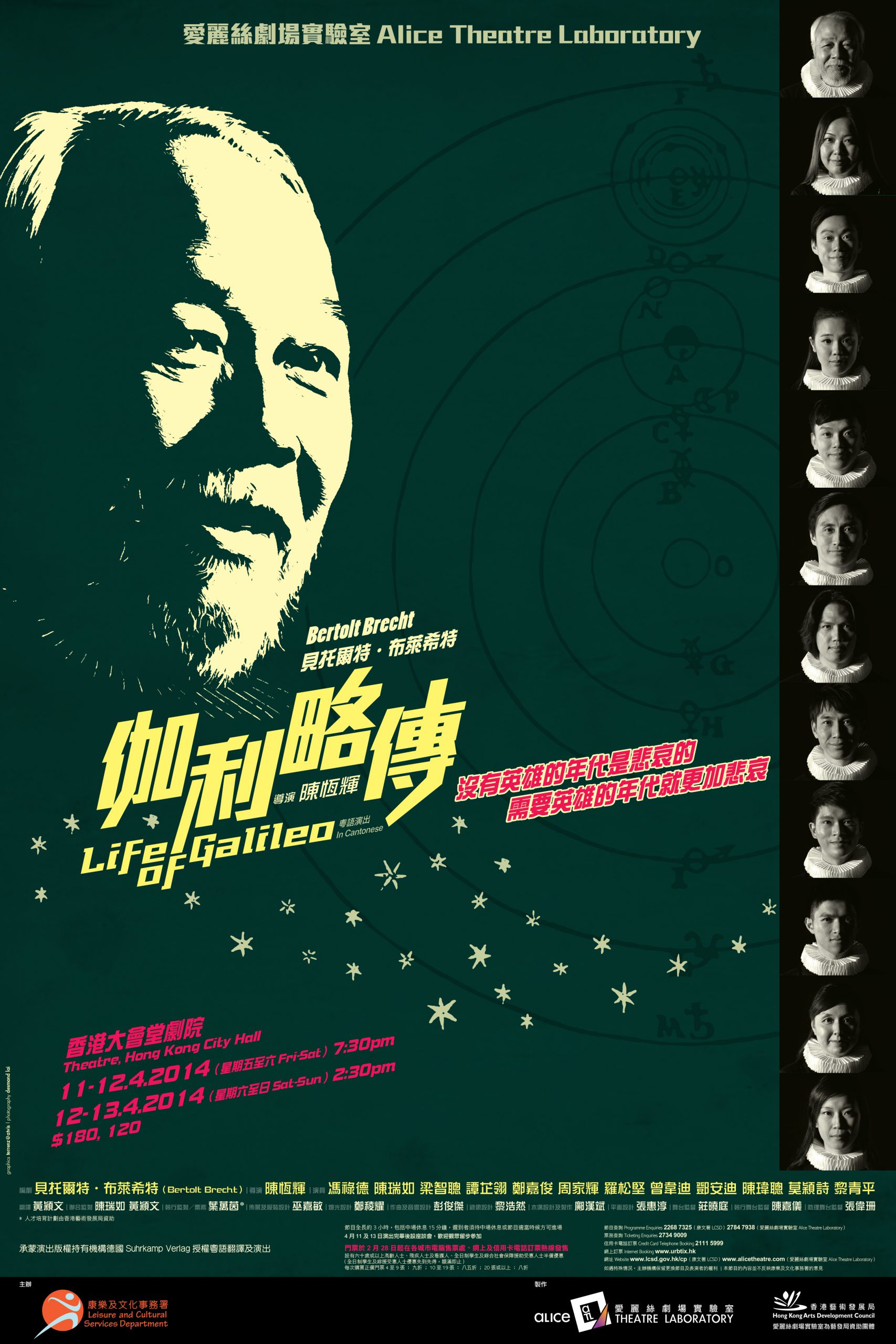 Life of Galileo
A Director Work of Andrew Chan
11-12/4/2014 7:30pm
12-13/4/2014 2:30pm
Theatre, Hong Kong City Hall
| | |
| --- | --- |
| Playwright | Bertolt Brecht |
| Director | CHAN Hang-fai Andrew |
| Translator | WONG Wing-man |
| Co-Producers | CHAN Shui-yu, WONG Wing-man |
| Deputy Producer/Ticketing | IP Man-yan* |
| Set & Costume Designer | MO Ka-man |
| Lighting Designer | Micro CHENG |
| Composer & Sound Designer | PANG Chun-kit |
| Puppet Designer | Ben KWONG |
| Graphic Designer | Terrenz CHANG |
| Stage Manager | CHONG Hiu-ting |
| Deputy Stage Manager | CHAN Ka-yee |
| Assistant Stage Manager | CHEUNG Wai-shan |
| Performers | FUNG Luk-tak, CHAN Shui-yu, LEUNG Chi-chung Eric, TAM Tsz-ling, CHENG Ka-chun, CHAU Ka-fai, LAW Chung-kin, TSANG Wai-tik, TANG On-tik, CHAN Wai-chung, MOK Wing-sze, LAI Ching-ping |
*The Arts Administration Internship Scheme supported by Hong Kong Arts Development Council
Trailer Director: LAI Ho-yin Desmond
Photography: CHEUNG Chi-wai, Jason MA
Message from Director
"The proof of the pudding lies in the eating"- Bertolt Brecht
Each of my works were produced in search of a certain thing, something that people had forgotten or undervalued. Every quest was great fun. Instead of the thrill of crossing the finish line, it was the discovery that counted.
In an interview, Luther Fung, Actor who played the role of Galileo, said that I had become more mature than I was 10 years ago. It is true that the way I look at things now is greatly different from the way 10 years ago. I am grateful to the "adverse" Bodhisattvas who let me learn lessons and how snobbish people could be. This made me more … "rational".
Theatre is the operating room. The blade of rationalness reveals the dark side of man by peeling off the mask relentlessly to show the real face.
For a change, no mercy.
This is Brecht
In "Life of Galileo", not just striving for truth and insistence could I spy, but also the way in which our society runs.
All these operate in the principles of dialectics.